With today's trend of women being more independent and capable, professional women's fashion market has seen a massive growth, countless labels and designers are dedicated to provide more 'work' clothes for professional women. However, the fundamental design and styling ideas are limited, as well as colour and pattern choices. Therefore, most of the women find that their work outfits are always the same and tedious due to the regulations of the work place, as they will have separate sections for work clothes and everyday clothes.
It is perfectly fine to separate work and life, but for me, I can't take the fact that I have to change shoes and outfit before and after work, it kind of cut me into two different people, which does not make my work hours happy simply because I am not wearing the outfit I want to wear. So I encourage you to give your work outfit some creative twist, that's if your work place does not have a strict requirement for outfit.
What I am wearing has great impact on how I perform, so I'd like to style myself with a little bit of creativity based on the main stream culture, which makes me more confident while doing my creative work. Today I'm wearing Tobi's collection- Straight A Skater Dress  in black and white. This dress has a nice formal shirt collar, which can fit in work environment, and its double layer design follows the hottest trend in 2017. It is fine to just wear it as a day dress in the summer, but I also wear it during the winter in Australia, simply style it with a pair of black jeans, I know my distressed beaded jeans might be too much for some work place, but personally, I love it. Just to add some highlight to my look, I styled with a rivet belt, green patterned round bag and a pair of lace up heels. I love taking a simple pice of outfit and style up to the limit, so I don't need to worry about if someone else is wearing the same outfit.
I know shopping for professional outfits can cost fortunes, and they are probably not our favourite outfit, people think they don't have choice, oh yes we do have choices, that's where styling is very important and know where to shop is more important. If you have limited budget but want to be very creative and stylish, visit international online retailers like Tobi.com, they always have nice clothes on sale, and offer free international shipping service. If you are crazy about styling instead of wearing a set of outfit, then it is better switch your regular shopping spots to those retailers who have more variety of fashion collections.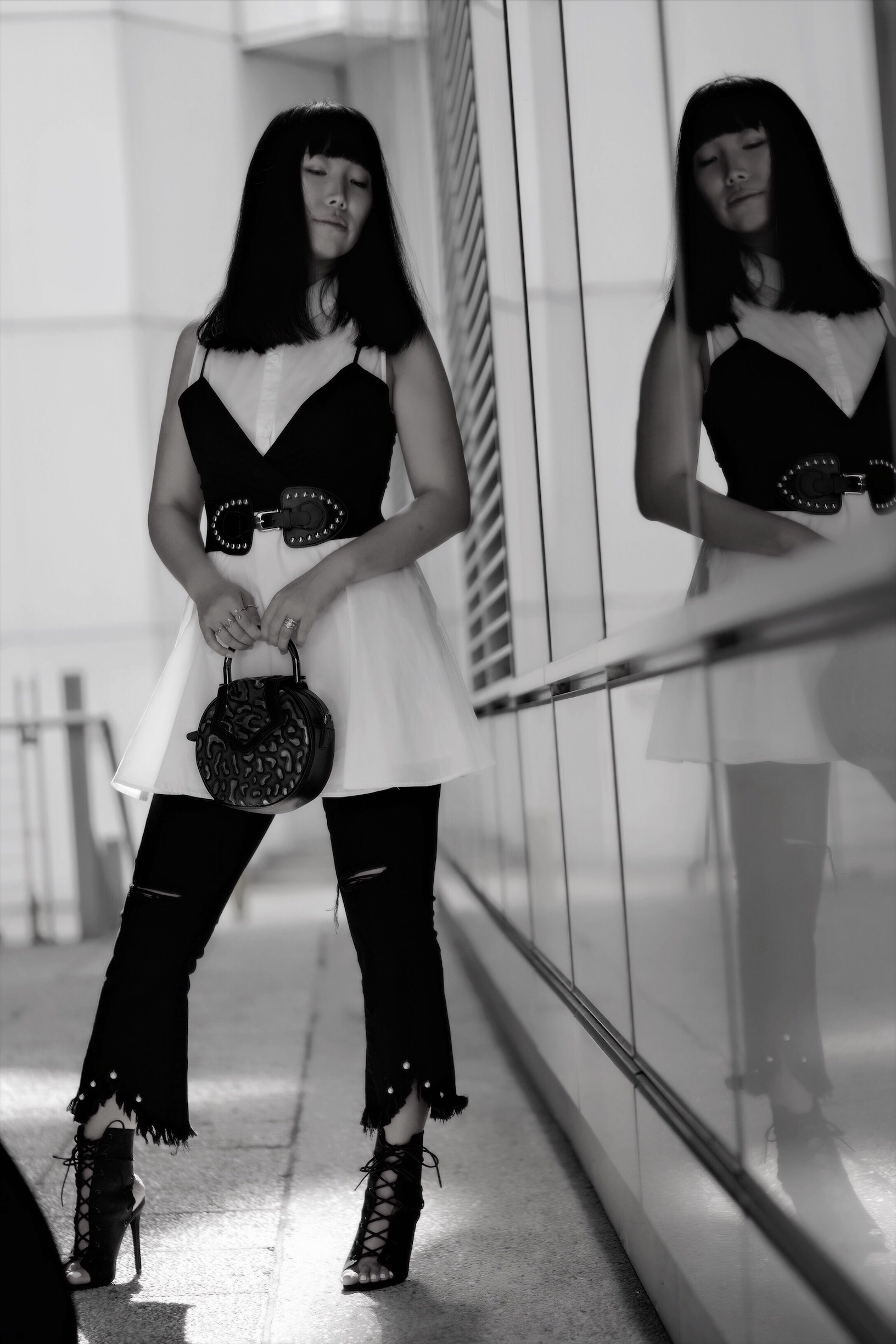 Walking at the CBD, I believe my style fit in and stand out at the same time, I can go for a coffee and a dinner without changing clothes and still be comfortable at different environments. This is the good thing about Australia, flexibility, I can set my own rules on how I dress to work. Just because you are professional women, doesn't mean you have to wear clothes you don't like and be dreary all the time, I'm sure you can be stunning and creative by proper styling and fit in to your work environment at the same time.
Outfit from Tobi- Straight A Skater Dress
Bag – exclusive, get similar here
Okhtein – embellished round clutch – women – Leather/Brass – One Size • 
Versus – round grab bag – women – Cotton/Leather – One Size • Versus • 
Jeans- exclusive, get similar here
Marques Almeida Black Flared Capri Jeans • Marques Almeida • 
Rag and Bone Black Crop Flare Jeans • Rag & Bone • 
Shoes , get similar here
TABITHA SIMMONS Farraday lace-up suede sandals • Tabitha Simmons •
Zaara •
Belt , get similar here
Versace Black Wide Medusa Belt • Versace •
Deborah Drattell Donna Anna Buckle Belt •

Photo by A J Forster Photography
3